CUSTOMERS REVIEW OUR WORK
When choosing a Brisbane builder, it's a must-do to check out their reviews. Here's what past Homes 4 Living customers have to say about their experience with us: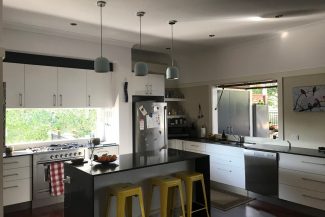 Exactly to plan – we still pinch ourselves
Having moved into our house in Holland Park, we were looking to create a more open, flexible and liveable space for our home. Our search for a good builder who understood what we were trying to achieve and who had a reputation for quality work, creativity and good communication over the course of an extensive renovation led us to Homes 4 Living and to Jason Mangan. The project went exactly to plan, was on time and delivered for us the open plan home we wanted for our family. We still pinch ourselves as we enjoy the renovation and the back yard paradise. The renovation maximises both the indoor and outdoor setting of our little oasis in the "burbs".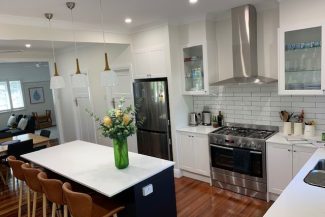 From tired and cramped to well-crafted and spacious
I apologise that it has taken me this long to write and say thank you for the incredible job you and your team did in transforming our tired, old, cramped house into the well-crafted, spacious home we have been dreaming of for the last ten years. My mum always said, 'Good things come to those who wait', and she was right! Thanks to you and your team, we finally have a beautiful home that we are proud of and love spending time in. We can't thank you enough for the guidance and advice you gave us throughout the build; not to mention your patience when we were slow to make decisions! You were incredibly gracious and supportive, which was greatly appreciated. Your knowledge and experience were invaluable in helping us to create a living space that is not only functional (hooray!), but in keeping with the original character of the home. We couldn't be happier. We sincerely thank you and your skilled team for the care and respect with which you treated us and our home.  We could not be more impressed with the craftsmanship and professionalism of all who worked on our renovation. We wish you, your family and your colleagues nothing but the best. Thank you for being instrumental in bringing our dream to life and giving us our forever home.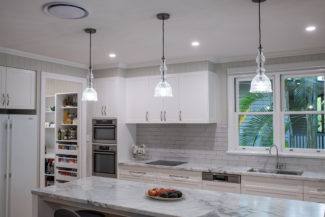 We should have done this years ago
"The Homes for Living Team were a dream to work with. We can't thank them enough for their practical advice, commitment to our vision and the quality of their workmanship which is evident throughout. We love our new home and the easy lifestyle they have created for us. Our 1920s Queenslander had been renovated a few times over the last 100 years but still contained many original features that we wanted to keep and some that were rediscovered in the process. Our vision was to create a larger family home while being respectful to its age, history, and in keeping with the charm of Red Hill." Customer, Red Hill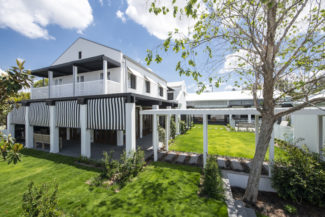 We are looking for another project just so we can work with them again
"I would not hesitate to recommend Jason Mangan and his team at Homes4Living. The process of renovating an existing house and building an extension, pool and garage was seamless from the very first meeting to the very last day of the build. Jason and his team were not only brilliant at their jobs, but showed great respect for the project and for us as the client. The team was willing to go the extra mile during the entirety of the project, and did so with enthusiasm and humour- traits that we appreciated enormously. Building and renovating with Homes4Living produced a magnificent end result, in fact our experience with Jason and the team was so great that we are looking for another project just so we can work with them again!" Customer, Hendra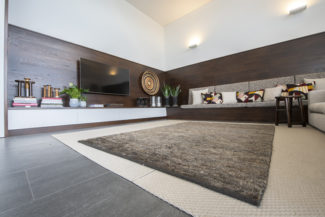 Absolute appreciation
"I just wanted to let you know how much we appreciate all the hard work you and your team are doing. It's not only the hard work but the quality of your work that is appreciated. I walk through the house every weekend. Every week I get more and more excited. I imagine you must forget after all these years just what an impact the work you guys do has on people. This is our home and the care and quality of work you guys display is appreciated far more than your team may realise. The way you make this complex process as smooth as you do is really impressive. This has meant building our home is something that can be enjoyed, which is not easy to do and is not lost on us." Customer, Hendra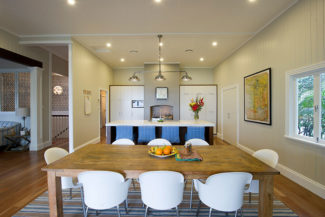 Truly grateful
"We are completely thrilled with the house. It has made a tremendous difference to the way we live as a family, and it is a delight to see the changes we envisioned come to fruition. The quality and craftsmanship of our home bring us great joy. It has been a pleasure to share the journey of the renovation with you and all your crew, from your staff to your contractors, all have been respectful and considerate of the fact that we as a family were living through the renovation. I always felt confident to communicate any small issues or changes that needed to be made, and I think that this is a great credit. Our neighbours could not commend the courteous nature of their engagements with you enough. They all commented on how easy you were to get along with and how you tried to minimise the impact that the renovation had on them. I think they may miss you all!! We are truly grateful for the blessing that our home is, and I can only wish you every success in all your future endeavours." Customer, Clayfield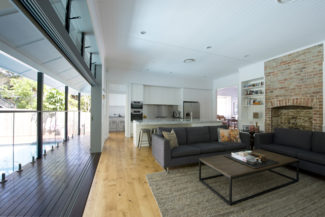 On-time, on-budget, no stress
"Before we started our renovation, we'd heard all the stories – the stress, the budget blowouts and the disputes.  We can honestly say, we experienced none of these with Homes 4 Living.  The opposite was true for us. Jason completed our renovation to the highest possible standard and was a pleasure to deal with throughout the entire process.  Our project was completed without stress, on time and on budget. In fact, it was finished one month ahead of schedule and we received some money back on our contract price. When we signed up with Homes 4 Living, we received all the benefits that came with a family-run business. We felt like our home was in safe hands. Jason was supported by a great team of builders, many of whom were his family members and were always polite, friendly and respectful of our home and our family. With Homes 4 Living, there were no surprises, no hidden extra costs and we found Jason very open in his communication. We would not hesitate in using Homes 4 Living again and thoroughly recommend them if you are renovating or building." Customer, Highgate Hill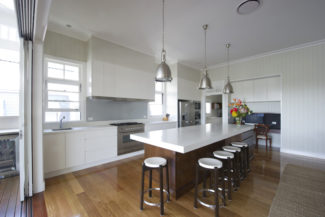 A team you can trust
"The Homes 4 Living team was recommended to us by our building designer. Having no experience with major renovations we were complete novices and entered into the process with some degree of anxiety. There are no shortage of stories of renovation projects going horribly wrong. This highlights the importance of choosing a helpful, honest and reliable team to manage your project. A team you can trust. The Homes 4 Living team lived up to this and more. We were impressed by their foresight and vision of our finished product. Anticipating minor issues in our design to improve the end result. More importantly they discussed the issues with our designer first and presented us with solutions…not problems. Our home was delivered on time and on budget with impressive attention to detail and a very high standard of workmanship. The core team saw our home to completion and after seeing them almost daily for 14 months it was sad to see them go off on another project. The subcontractors who helped build our home shared Homes 4 Living's exacting attention to detail. Homes 4 Living has built our forever home and we have already recommended Homes 4 Living to our friends." Customer, Auchenflower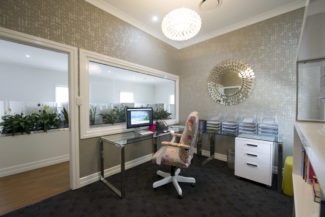 100 year building comes to life
"When choosing a builder to guide us through the process of building a new studio our criteria was simple, quality workmanship with exceptional attention to detail, guidance and advice, honesty and integrity. Jason and his wonderful team were all this and more. They made the process stress- free so we could concentrate on running our business whilst the studio was being built. Jason was always available to answer our questions and provide us with the right advice as we were inexperienced in this process. We are so delighted with our new studio and all of our clients comment on the quality job that has been done – if only they could see the before images as we think Jason and his team are miracle workers giving this 100 year old building a new life." Commercial Customer, Yeronga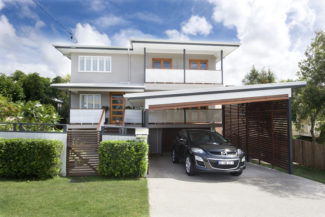 An exceptional customer experience
"We engaged the Homes 4 Living team in May 2009, for an extensive renovation to our Yeronga home. From the time of initial planning right through to project handover, Jason and his team delivered an exceptional customer experience. Homes 4 Living were one of few contractors we had dealt with who did what they said they would do, when they said they would and on budget. Since the completion of our home, the Homes 4 Living team have gone on to complete work on two other neighbouring properties in our street, primarily due the quality of the work and the professionalism of the team – their work speaks for itself. Combine this with excellent and personalised advice and attention to detail, the Homes 4 Living team were a pleasure to deal with. We couldn't recommend them more highly." Customer, Yeronga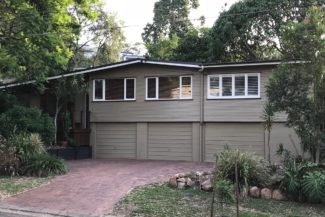 Surpassed all expectations
"Sitting with Jason at the contract signing evening I suggested to him that I wanted this to be a pleasurable experience for me and indeed Homes 4 Living – it lived up to all my highest expectations and indeed on all levels surpassed them. The project was a significant renovation/addition to a 1960s Bardon home and every comment I have been given from friends, family and neighbours has been that the new work blends in seamlessly as though it was always there – my fundamental objective. Jason's work team and the other trades that represented him onsite were expert, professional and courteous on all levels without exception. It is with sincerity that I have no hesitation recommending Homes 4 Living for your building project and again take this opportunity to thank Homes 4 Living." Customer, Bardon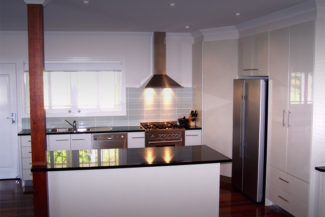 We're spreading the word
"We would like to take this opportunity to sincerely thank you and all of your team for building us such a beautiful home. We are so appreciative of the massive effort and pride taken by everyone involved, nothing was too much to ask. You'd better hire more people to keep up with all the work as we will be recommending your company to everyone. Thanks again for everything!" Customer, Mt Gravatt East